There are two morning rituals that are a must in my world: my nut, seed + bone broth smoothie (what?! I know, I eat a plant-based diet, but there's something to be said about this mineral packed potion), and oil pulling. Yes, swishing coconut oil in my mouth for 20 minutes does wonders. There are many benefits.
1. Kills harmful bacteria
The mouth is a biomarker for health—essentially your oral microbiome is a reflection of your gut microbiome… after all they are connected. Keeping a balance of healthy bacteria is crucial, however the modern diet—eating grains—has shifted that balance (for the worst). Studies show that oil pulling kills harmful bacteria in the mouth that can lead to tooth decay, bad breath and gum disease.
2. Reduces inflammation + prevents cavaties
The bacteria in the mount create a biofilm on the teeth, a thin layer that we all know as plaque. Having some plaque on the teeth is normal, but if it gets out of hand, it can cause bad breath, gum inflammation, gingivitis and cavities. Research shows that coconut oil can reduce inflammation, moisturize your gums and increase saliva production. This reduces "bad guy" bacteria in your mouth which can help reduce plaque, and prevent cavities and plaque-induced gingivitis.
3. Eliminates bad breath
It's really unpleasant to know that in many cases bad breath is caused by the smell of chemicals and gases produced by bad bacteria in the mouth. It makes sense because bad breath is associated with infections, gingivitis and, well, less than stellar oral hygiene.
4. Other purported benefits
There are no studies to support the following claims, but anecdotal evidence suggests that oil pulling helps whiten teeth, boost immunity, provide clearer skin, increase energy and reduce headaches.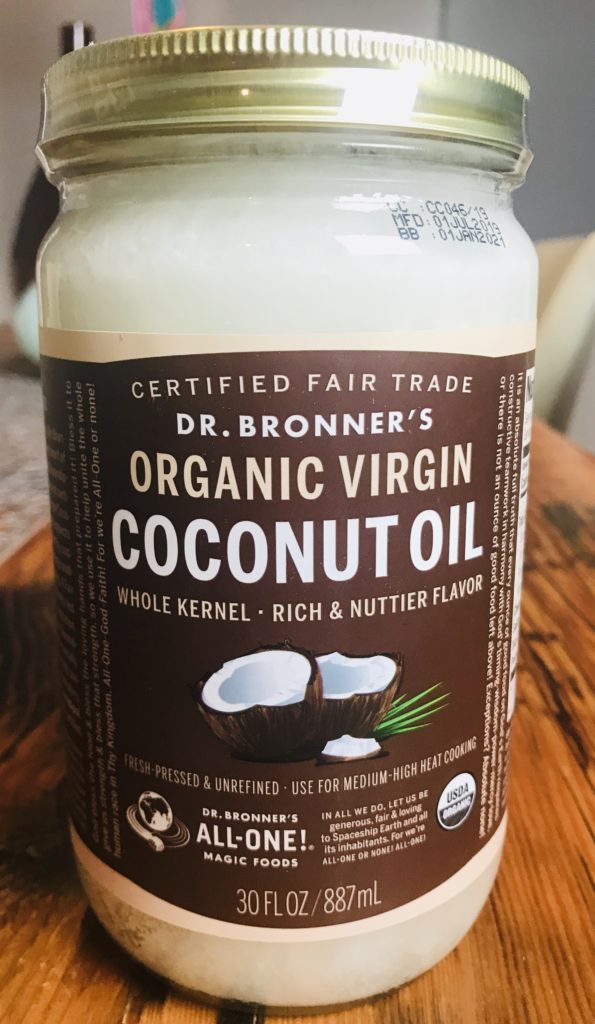 Why coconut oil?
While sesame and sunflower oil are also used in oil pulling, coconut oil has the added benefit of lauric acid, which is well known for its anti-microbial agents making it more effective. As for mouthwash… oil pulling allows you get to avoid the harsh chemicals that lurk in most formulas.
Why oil pulling vs. mouthwash?
Mouthwashes are not created equal, however most conventional mouthwashes contain at least some less then desirable ingredients. GO ahead, wander over to your bathroom and take a look at the label to see if you find any of the following:
Artificial dyes—Commonly used dyes like FD&C Green No. 3, D&C Yellow No. 10 and FD&C Blue No. 1 are linked to tumor development and attention disorders, and can unnecessarily strain the liver. Plus the dyes can stain teeth.
Chlorhexidine gluconate—Kills the "good guy" and "bad guy" bacteria in the mouth. It has also been linked to increased blood pressure and heart problems.
Methyl salicylate—Provides added flavor, but can cause dilation of the capillaries.
Triclosan—An antibacterial agent that in high doses may lower thyroid hormone levels.
Alcohol—A key ingredient used by major brands due to its antibacterial qualities—except it destroys the good and bad bacteria. It can contribute to dry mouth (which promotes the bad bacteria growth) and is a known carcinogen.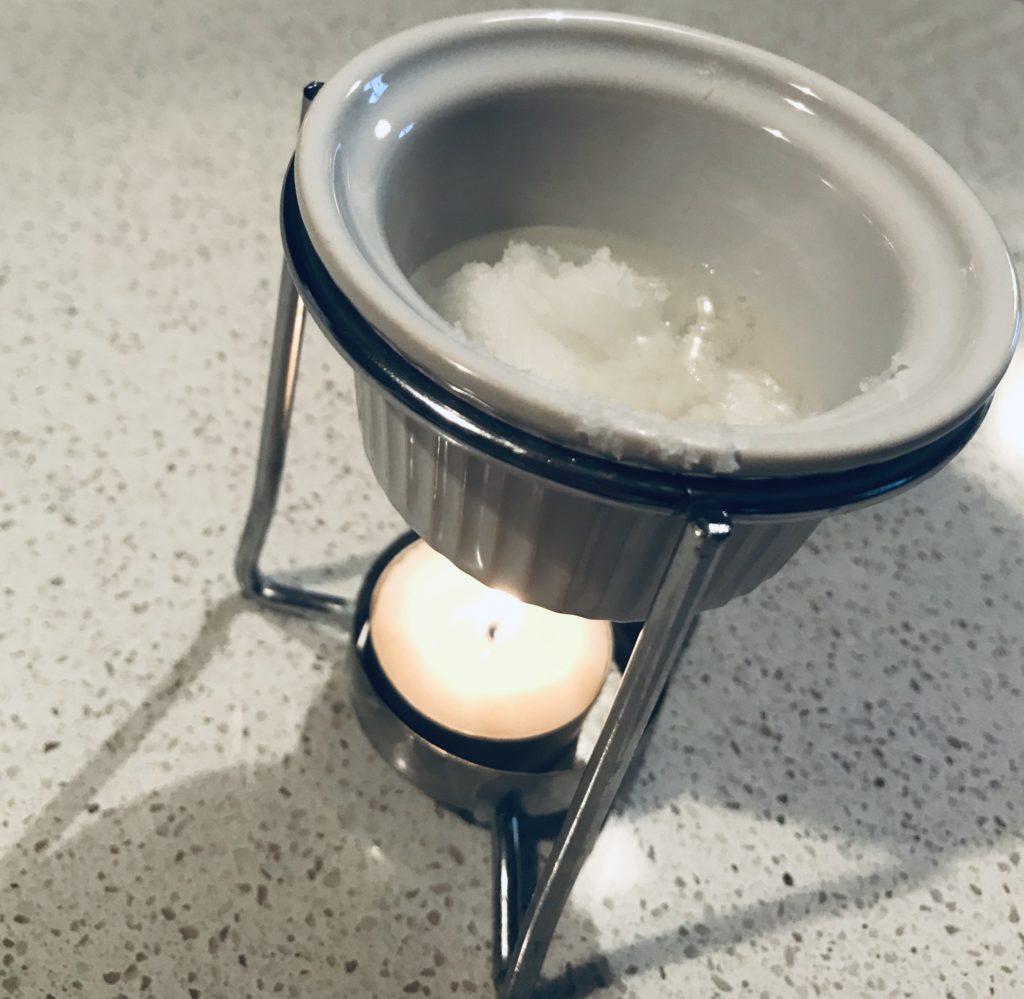 My oil pulling ritual
As soon as I walk downstairs the morning I begin melting one tablespoon of virgin coconut oil in a butter warmer. Some people are able to take a scoop of coconut oil an pop it directly into their mouth to melt it, but my gag reflex is real. Once melted, I add two drops of high-quality peppermint essential oil (you can also add three drops of wild orange and lemon essential oils) and pour the mixture into my mouth. Set the timer for 20 minutes and the kids know to hold their questions until the time is up—another upside of oil pulling! It may be easier to start with 5-10 minutes and slowly build to 15-20 minutes.
Once 20 minutes is up, I spit the oil into the trash can (soon I will begin composting and will place it in that bin instead) and immediately scrape my tongue and brush my teeth using homemade tooth powder. You'll notice that the oil spit out is white (rather than clear).This indicates that the bacteria has been "pulled" free.
Oil pulling first thing in the morning before you eat or drink is best since bacteria and germs build up while asleep at night. You want to get rid of the not-so-great things in your mouth before they have a chance to enter your system.
I do this daily (or close to it), but it is effective when done only 3-4 times each week.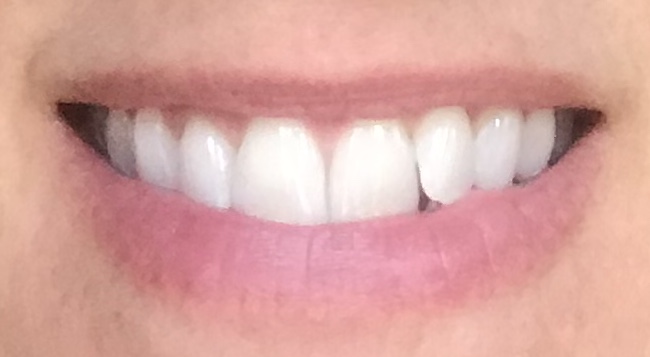 Results
I already mentioned that I live for this each morning and I've been "pulling" for nearly a year and a half. My mouth feels fresh, my teeth always feel like the hygienist just cleaned them and my teeth do appear whiter. If it's simply mind over matter, oil pulling is that for me. I believe it benefits my oral microbiome and perhaps that's what's at play. Who knows, but I'm liking what I'm experiencing!