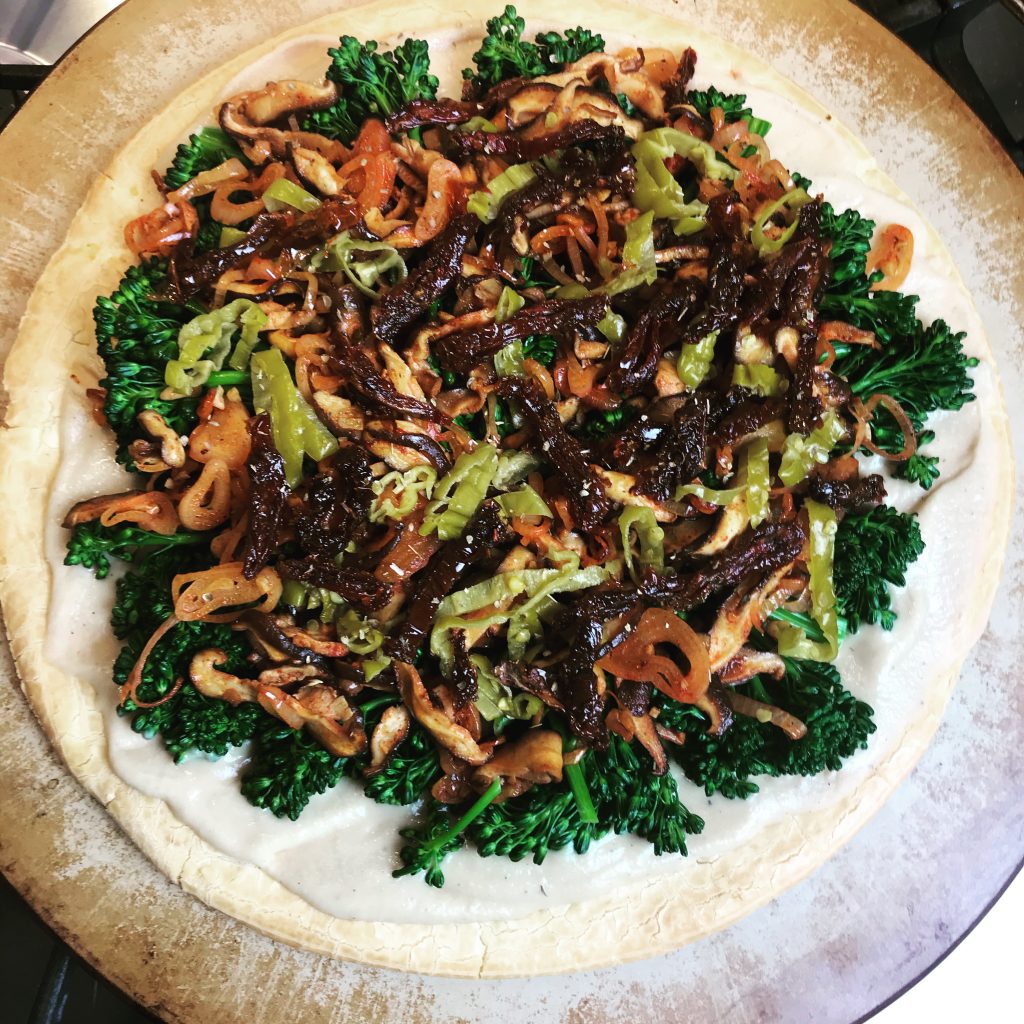 Attempting to eliminate grains from my diet has been easier than I imagined, however my soft spot for pizza remains. (I'm dabbling with creating the perfect grain-free crust so pizza will land on my menu more often.) There's nothing better than a tasty pizza loaded with veggies that leaves me feeling satisfied, energetic and ready to conquer what's left of the day.
The bitterness of the broccoli rabe combined with the sweetness of the sun-dried tomatoes, meatiness of the shiitakes and slight heat of the pepperoncini peppers is such a great combination. And the shallots… I could add shallots to everything. I did caramelize these prior to adding the toppings to the pizza.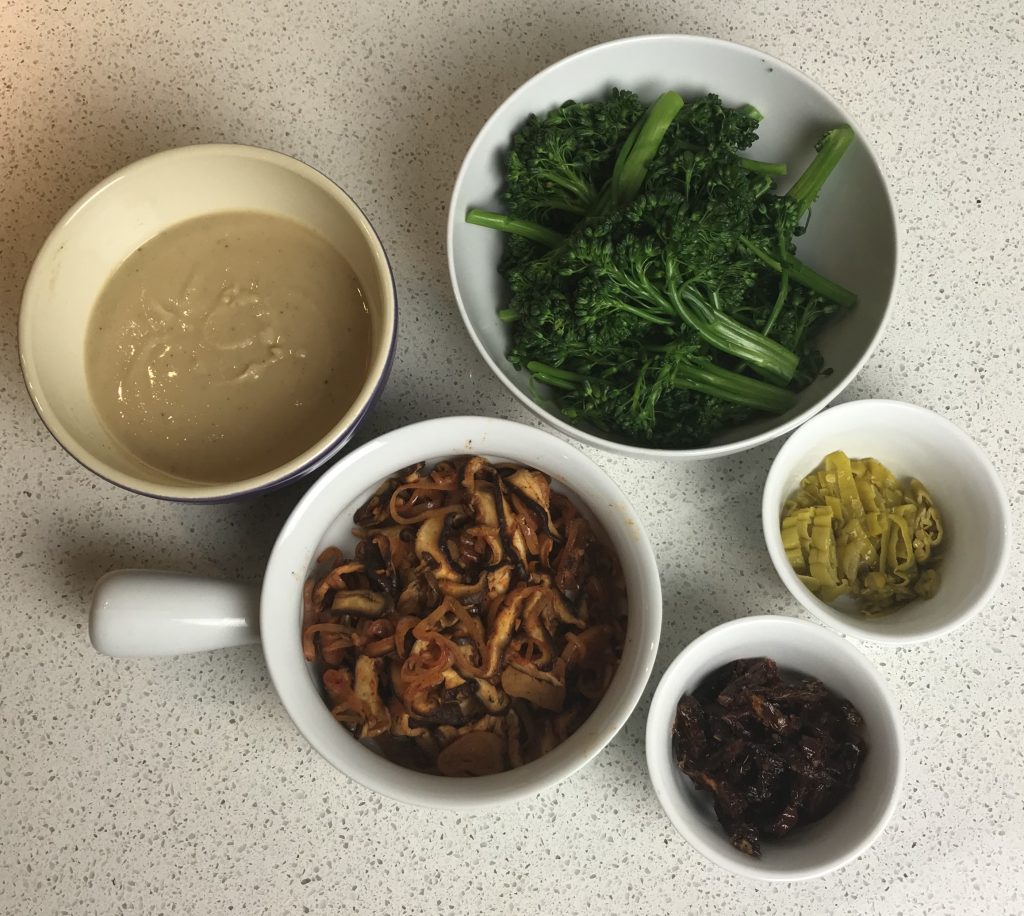 To save time I used a prepared gluten-free pizza crust that I toasted on both sides before adding the toppings because I prefer an extra crispy crust. Originally I used a white truffle cream sauce per the pizza recipe below, however the truffle flavor didn't come through and I didn't care for the taste and consistency of the white bean sauce. So I've provided my preferred white garlic sauce recipe (cashew-based) below. You can save a bit to drizzle over the pizza once baked or add a bit of olive oil for moisture as needed.
One 12-inch pizza
Serves: 2-3 (8 slices)
White Garlic "Cream" Sauce
Recipe adapted from Hot For Food Blog
1 c raw cashews, soaked
6 large garlic cloves, roasted
1t olive oil
1/2 c filtered water
2T freshly squeezed lemon juice
3 T nutritional yeast
1/2t Himalayan salt
1/2t freshly ground black pepper
For the Pizza
Recipe by Laura Wright, author of The First Mess
1 small bunch broccoli rabe, tough stems removed
6 oz shiitake mushrooms, stems removed + thinly sliced
3/4 t smoked paprika
1 garlic clove, minced
1 lb homemade or 12″ prepared gluten-free pizza dough
1 small shallot, thinly sliced
4 pepperoncini peppers, drained + sliced
1/4 c sun-dried tomatoes, sliced
1 oregano sprig, leaves roughly chopped
Directions
Soak cashews at room temperature for 2-3 hours. To expedite, bring 2 cups of filtered water to a boil, remove from heat then add cashews and allow to soak for 30 minutes. Strain excess water from cashews, rinse and add them to the bowl of a high-speed blender.
Meanwhile, roast garlic cloves in a small cast iron skillet over medium heat for about 5 minutes, turning the cloves every 1-2 minutes to keep them from burning. Allow them to cool a bit before removing the skins. Add to the blender along with the remaining ingredients. Blend on high until smooth, scraping down the sides as needed. Add more filtered water to thin if necessary. Set aside.
Directions + assembly for the pizza toppings can be found here, at The First Mess. Note that I opted for the white garlic "cream" sauce recipe above for added flavor.
Buon Appetito!